The MilkMan & Sons
Traditional Blues And Prohibition Jazz
Mixing originals with the classics and serving an assortment of acoustic instruments
including vocals, harmonica, violin, guitar and bass.
The MilkMan & Sons: Drownin'
New Realease! 10 new songs recorded with a full band live in Shanghai, China at The House of Blues and Jazz now available at shows and on line at: DigStation - Indie Music Downloads

mp3 downloads:
CD: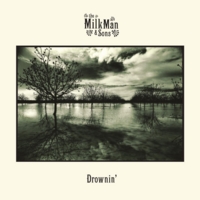 Drownin'
Buy album from cdbaby.com | Download album from iTunes
"...with it's touches of jazz, downhome feel and rollicking attitude, it really becomes that other kind of blues -the kind that throws jubilation in the face of dispair"
Reviewed by - Harmonica Happenings Vol. 46 No.42
This is the second album by theMilkMan. Joined this time by sons Rob Hecht on violin, Jake Sanders on banjo, Rob Adkins on bass and Alex Ritz on drums. This album boasts a bigger sound yet keeping with its acoustic blues roots and venturing into some traditional jazz.
Drownin' was recorded in one short 4 hour session. The group had grown comfortable together playing traditional jazz six nights a week at Shanghai's famous House of Blues and Jazz. On an early afternoon at the club, mics went up and the fellas recorded live; a bunch of songs they had never played before. What you hear is a first impression of the music by a seasoned group of musicians having fun.
Marcus Milius - throat and harmonica
Rob Hecht - fiddle and holler
Jake Sanders - banjo and holler
Rob Adkins - fiddle and holler
Alex Ritz - fiddle and holler
Or buy it from Digistation where 100% of the profit goes to the artist (me).

the MilkMan: I Can't Believe It's Not Brother!
Traditional Blues Vocals, Guitar and Harmonica. theMilkMan is Marcus's affair with the power of the word, and his flirtation with the honesty and imperfection of blues music. Calling on the blues traditions of the great delta walking musicians from Charley Patton to Muddy Waters, this a one man act that sounds just like a trio. First takes and living with the mistakes is what this music is all about. All live and coming alive; bluesy throat, guitar, harmonica and quarters weave the musical styling and spontaneity of John Lee Hooker with the storytelling and humor of Tom Waits.
mp3 downloads:
CD: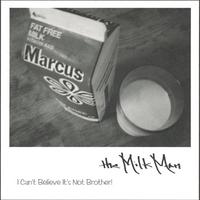 I Can't Believe It's Not Brother!
Buy album from cdbaby.com | Download album from iTunes
I Can't Believe It's Not Brother! Was recorded guerrilla style in two short sessions. No over-dubs, no editing, these are all live takes with all the instruments being played simultaneously. The songs were a culmination of several years of writing but often changed during the session. The first track was written 5 minutes before the second session, walking from the subway to the Harlem studio of Robbin Harris. The project's goal was to capture the energy, spontaneity and honesty of theMilkMan's live performances. Everything from the package design to the music you hear was conceived by the artist and brought to you the listener. It is released on Marcus' own MenosEsMas Music record label. There is no middle man... It's just you and theMilkMan.
Marcus Milius - throat, guitar, and harmonica, and quarters (Contact me for booking)