The MilkMan & Sons
Traditional Blues And Prohibition Jazz
Mixing originals with the classics and serving an assortment of acoustic instruments
including vocals, harmonica, violin, guitar, bass and drums.
Bio short - The Milkman & Sons is a Brooklyn based band that plays Traditional Blues and Prohibition Jazz. They are known for their ability to take audiences in a musical time machine by playing the music of such varied notables as Louis Armstrong, Duke Ellington, Django Reinhardt, Muddy Waters, Howlin' Wolf, Fats Waller, Hoagy Carmichael and Little Walter as well as original music written in a similar style. While the band is always fronted by singer, harmonica player and guitarist, Marcus Milius it usually features violinist, Karl Meyer and bassist, Luc Decker. As a trio they have earned a reputation for artfully creating an intimate ambiance and still being able to bring a room to life with contagious energy. They developed this craft playing up to six nights a week at local bars, restaurants and events.
Bio long - The Milkman & Sons is frontman Marcus Milius' affair with the power of the word, and his flirtation with the honesty and imperfection of blues music contrasted against his writing in the style of traditional jazz and tin pan alley. Calling on the blues traditions of the great delta walking musicians from Charley Patton to Muddy Waters, this a one man band that sounds just like a trio using bluesy throat, guitar, harmonica and quarters to weave the musical styling and spontaneity of John Lee Hooker with the storytelling and humor of Tom Waits. Or accompanied by his sons the band usually performs as a trio but can expand to a sextet including drums and horns or even adding a female vocalist. This allows The Milkman & Sons the versatility to cover a wide variety of repertoire from, Blues, Dixie, New Orleans Jazz, Parisian Gypsy Jazz and the Great American Songbook. Making the perfect band for any room and any event.
But what sets them apart from other bands and keeps fans coming back is the original songwriting of frontman and band leader Marcus Milius. Originally from Los Angeles, CA he has lived and played music in Japan, China, England, Spain and Scandinavia. Writing personal narratives and catchy tunes in the style of the old greats, Marcus takes audiences to another place that could have been. His vocals are reminiscent of Leon Redbone and Dr. John and his virtuosic harmonica playing ranges from Paul Butterfield to Larry Adler. His guitar playing is tasty yet understated and always more concerned with keeping time to let other voices play against.
Violinist and vocalist, Karl Meyer is the lead instrumental voice of the band but artfully harmonizes or underscores when the lead is passed to other instruments. He often provides vocal harmonies but is just as comfortable taking the limelight singing a torch song or two. A proud native of Detroit, Karl grew up singing in choir in church and playing classical music. He has since has played with many different bands from rock to jazz touring the U.S. He and Marcus originally started playing Traditional Jazz in 2005 with the Brooklyn band the Cangelosi Cards and have been an inseparable musical team ever since.
Luc Decker is the band's bass player. Originally a jazz drummer, he is the main reason for the bands steady and unshakable rhythmic groove. But he is also careful to help keep the band's sonic contour continually changing as he is often featured as a lead voice or coloring the ensemble with a classical string sound as he blends with Karl on the bow. Luc is from Indiana, but met Marcus in 2003 when they both first moved to New York. They have been close friends ever since playing in a variety of bands off and on.
Trio: Video
Bulleit To The Belly - Original gypsy jazz.
Dream A Little Dream Of Me - Jazz standard with a string intro.
Tuesday Night - Original minor bluesy swing.
How To Break Your Lover's Heart - Original medium tempo swing.
Quartet: Video
The Jack - Original minor blues with baritone saxophone.
Quintet: Video
So Long - Original gospel blues with organ.
The Milkman & Sons Trio: Trio EP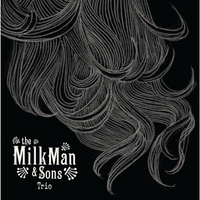 Buy album from cdbaby.com
|
Download album from iTunes
This is the third album by The Milkman. After a year playing every Sunday at Henry Public in Brooklyn, NY The Milkman & Sons has developed a loyal following playing traditional jazz from the 20's and 30's. They recorded this album to capture that chemistry.
Marcus Milius - throat, harmonica and guitar
Karl Meyer - violin and holler
Luc - acoustic upright bass
The Milkman & Sons Quintet: Drownin'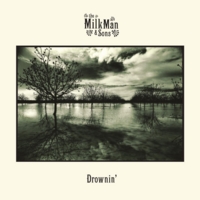 Buy album from cdbaby.com
|
Download album from iTunes
"...with it's touches of jazz, downhome feel and rollicking attitude, it really becomes that other kind of blues -the kind that throws jubilation in the face of dispair"
Reviewed by - Harmonica Happenings Vol. 46 No.42
This is the second album by The Milkman. Joined by his sons this album boasts a bigger sound yet keeping with its acoustic blues roots and venturing into some traditional jazz. Drownin' was recorded in one short 4 hour session. The group had grown comfortable together playing traditional jazz six nights a week at Shanghai's famous House of Blues and Jazz. On an early afternoon at the club, mics went up and the fellas recorded live; a bunch of songs they had never played before. What you hear is a first impression of the music by a seasoned group of musicians having fun.
Marcus Milius - throat and harmonica
Rob Hecht - fiddle and holler
Jake Sanders - banjo and holler
Rob Adkins - fiddle and holler
Alex Ritz - fiddle and holler
The Milkman Solo: I Can't Believe It's Not Brother!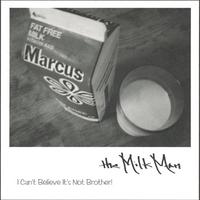 Buy album from cdbaby.com
|
Download album from iTunes
I Can't Believe It's Not Brother! Was recorded guerrilla style in two short sessions. No over-dubs, no editing, these are all live takes with all the instruments being played simultaneously. The songs were a culmination of several years of writing but often changed during the session. The first track was written 5 minutes before the second session, walking from the subway to the Harlem studio of Robbin Harris. The project's goal was to capture the energy, spontaneity and honesty of theMilkMan's live performances. Everything from the package design to the music you hear was conceived by the artist and brought to you the listener. It is released on Marcus' own MenosEsMas Music record label. There is no middle man... It's just you and theMilkMan.
Marcus Milius - throat, guitar, and harmonica, and quarters (Contact me for booking)
[an error occurred while processing this directive]